If you want to make the most of Foxy Labels and all the functions the extension features, a mailing list in Google Sheets is essential for saving time and boosting work efficiency.
A mailing list can be used for various purposes, such as merging the list with our templates to create address labels or envelopes for your correspondence. In this tutorial, we'll walk through the required steps to create a mailing list in Google Sheets.
1. Create a new Google spreadsheet
Firstly, you'll need to open a blank document in Google Sheets. It is where you'll arrange a few columns into a table and fill it in with the information about your client base.
Click on https://sheets.new to open a bank document. By default, the new file is called "Untitled spreadsheet." To keep your files organized and easily accessible, it's a good idea to give your new document a name.
The title field of the document is located in the top-left corner, above the menu bar.
Click inside the placeholder, and the default title will get highlighted automatically. Type a new document title and hit "Enter" or left-click anywhere on the screen to save changes.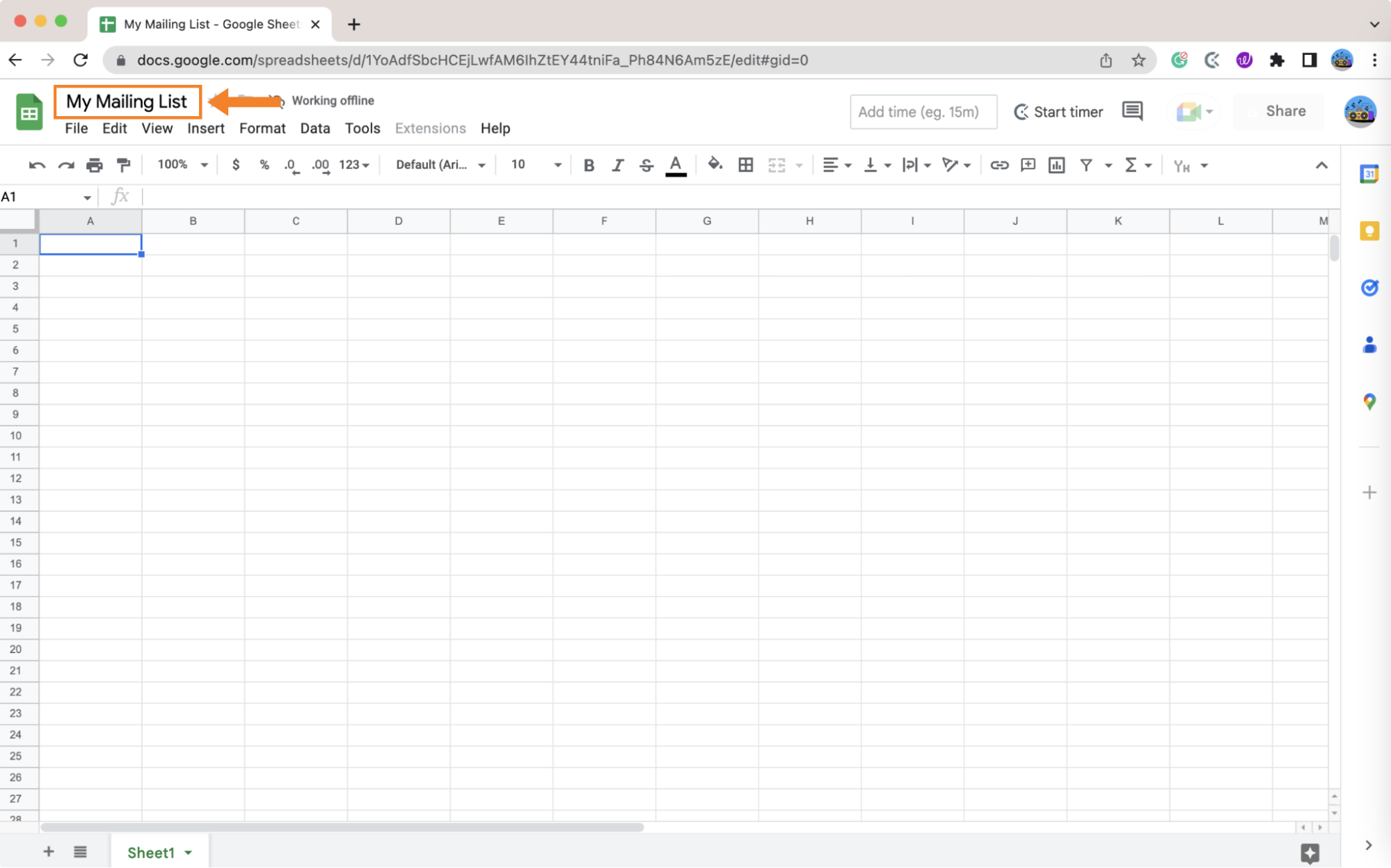 2. Compile the mailing list
Before building the list, let's go over the definitions you'll have to deal with. A spreadsheet consists of cells, rows, and columns.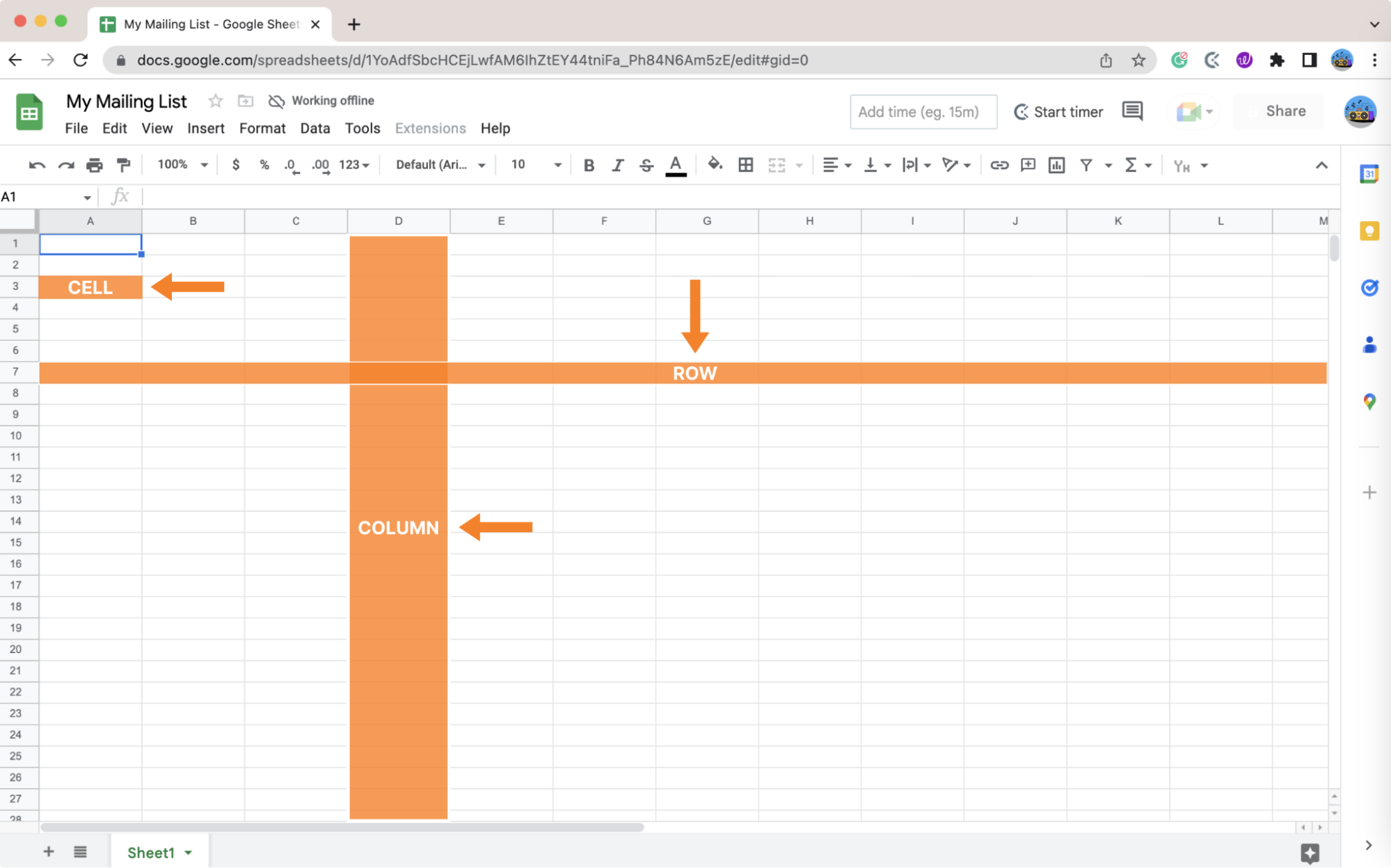 We define each row of our mailing list as a contact and each column as a field of data. A typical mailing list contains the following information: the first and last names of your contacts, email address, mailing address, city, zip code, and state. Therefore, your list will consist of seven columns. The number of rows depends on how many contacts you want to include in the list. Remember, the table is customizable: you can always add more columns or rows to your list. Likewise, it's easy to delete some list elements if needed.
3. Fill in the table with contact information
Click in each cell and enter the appropriate names for each list column. As mentioned before, you have seven columns. Adding some visual hierarchy, you can separate the list headings from the table's content. For example, I'm making the font bold and center-aligning all titles in this guide. Highlight the first row, and click the following buttons in the menu bar.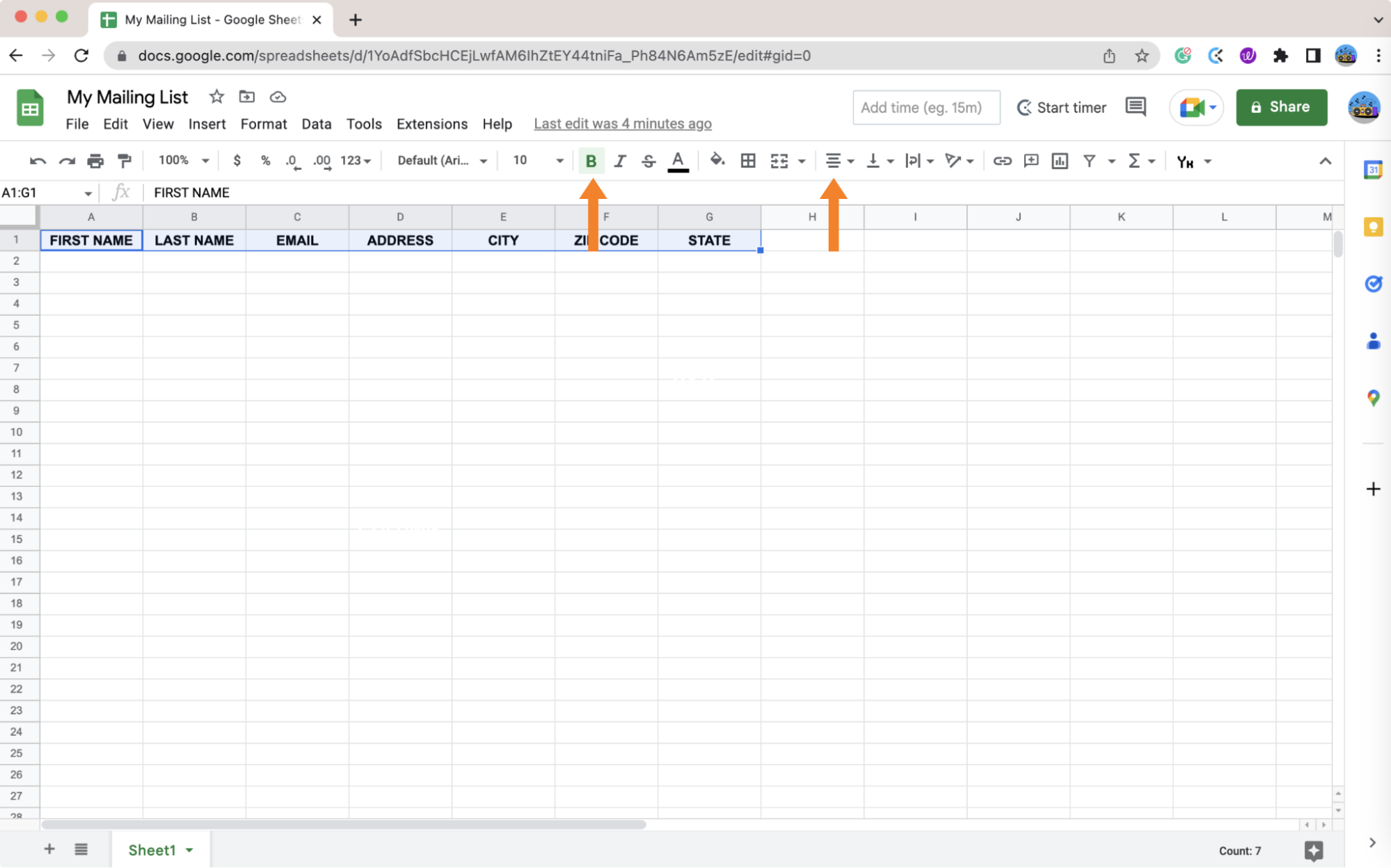 Continue filling cells under each column name with corresponding information about your contacts. If a particular piece of data is missing or irrelevant, leave that cell blank. The space will appear blank on the printed labels.
The information you type into a given cell is often longer than the default cell size. The quickest way to resize a cell is to click and drag the edge of the cell you need to scale up. Drag the cell's edge until the text entry fits nicely inside.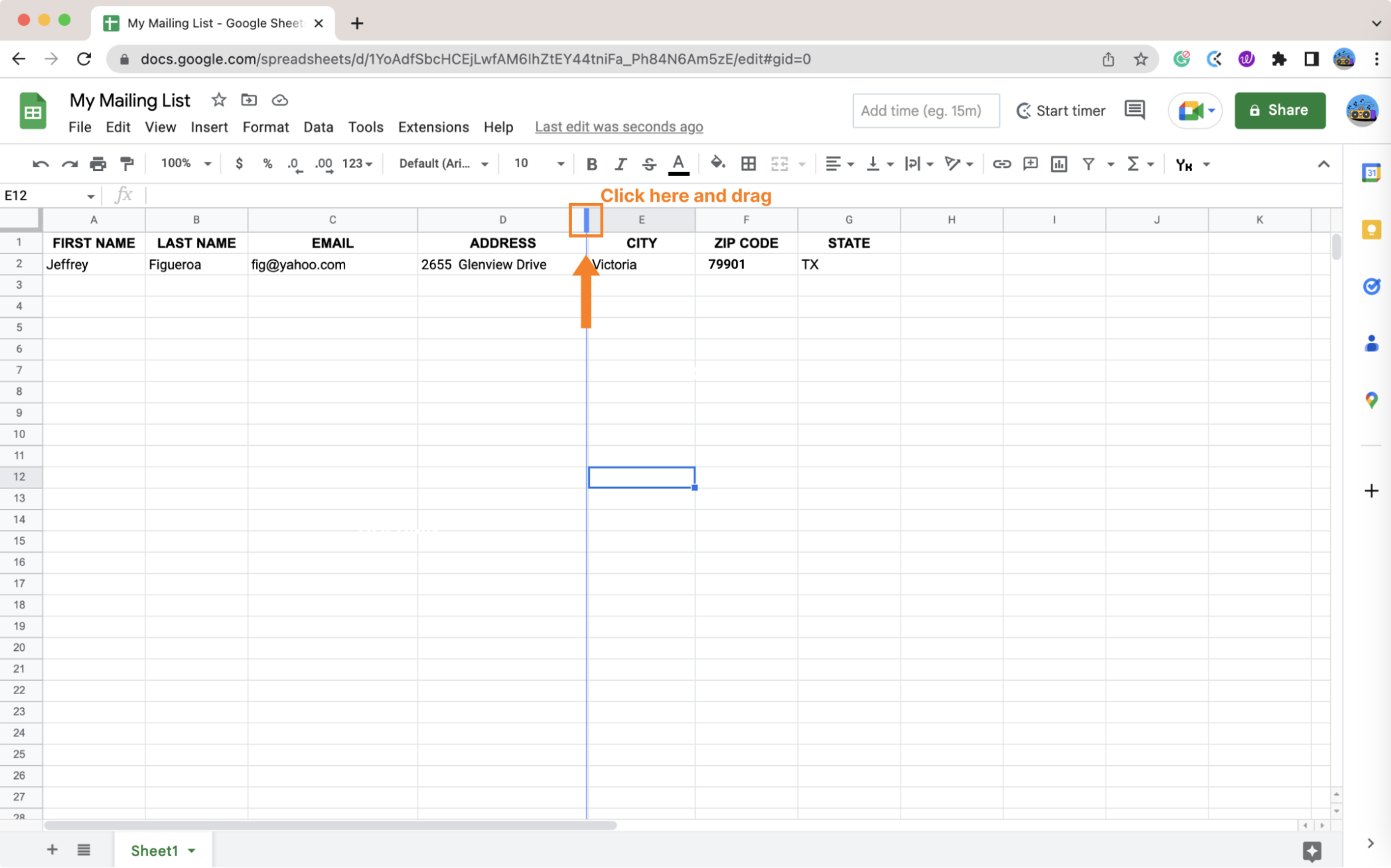 4. Import a .csv-file (optional)
Google Sheets allow importing a pre-made list of contacts in .csv format. If you have a .csv with all the data of your contacts, you can save yourself the trouble of typing everything manually. Just import your .csv-file into google sheets and either continue editing the existing mailing list or start a new one.
To import your .csv-file into Google Sheets, click on File > Import, and upload your .csv.
5. Print labels
And you're finished! Now, when you need to print address labels, shipping tags, or envelopes, you can save a ton of time by merging your completed mailing list with one of Foxy Labels templates.
Bonus for fans!
We at Foxy Labels always guarantee that our users have the best customer journey. With this in mind, we prepared a free Google Sheets template for your convenience. To use the template, navigate to the link below and click on "Make a copy."